After a two-year hiatus. Students' Fest thrills JRMSUans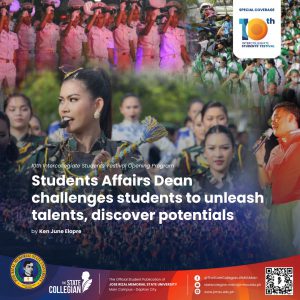 Deafening screams, beaming colors, and breathtaking thrills filled the University Grandstand as the 10th Intercollegiate Students' Festival kicked off today in JRMSU-Main Campus, Dapitan City.
Campus Administrator Dr. Marvin A. Recapente formally declared the Students' Fest open.
Dr. Jay D. Telen, Dean for Students Affairs and Services and the OIC-Vice President for Academic Affairs welcomed the delegates and tournament managers with his opening remarks.
"We are here to release our fears, worries, and apprehensions, after what we have been through," Dr. Telen said. "Our participation in this festival, be it as a player, a performer or even a mere spectator could somehow reduce our tension and anxieties to a large extent."
The opening program began after the kick-off parade and Saludo competitions were participated in by the high school department, eight colleges, school organizations, the Graduate School, and the College of Law.
"With your aura today, we could see and feel the energy and the excitement. We just hope that the outward look that you have shown today is reflective of your inward condition, be it mental, psychological, or emotional shape," Dr. Telen added.
News | Ken June Elopre
Photo | John Val Jorence Cabuco