"JRMSU: Bouncing back from institutional setbacks and gearing up towards the future"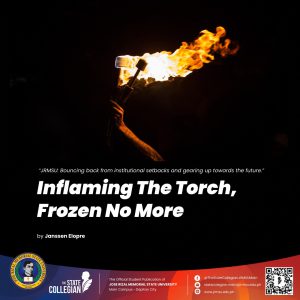 Inflaming The Torch,
Frozen No More
"… and finally they're opening up the gates!"
Princess Anna and I shared the same sentiment as we both witness the dramatic commencement of each other's long-awaited juncture years after the long isolation — with hers being the opening of Arendelle's castle doors, and mine being the opening of my alma mater's, Jose Rizal Memorial State University, school gates — with which the breakage of each other's gate locks marked the historic beginning of their ventures.
JRMSU's 10th Intercollegiate Students' Festival is among the highlights of the institution's face-to-face rebirth as not only does it give focus on camaraderie, sportsmanship, and freedom from academic stress among JRMSUans, but also lets them rediscover their passion and engagement in literary, musical, and athletic competitions — an occasion much-loved by the JRMSU nation.
After more than two years of students' fest hiatus, I was ecstatic with the thought that the event I was not interested in way back 2019 is finally back on the spotlight, and now I got the chance to expose my potential and fully unleash the hidden beast within me. "What could go wrong?" I asked myself.
Like the fast changing of the seasons, the adrenaline rush I had suddenly went down low after uncertainties and rumors of institutional setbacks such as the lack of budget resurfaced, and that made me question that if the students' fest will not be successfully commenced, then how will I make most of my remaining years as a student?
In full honesty, this thought has been among the doubts I had ever since the start of the institution's face-to-face comeback, because aside from the fact that the pandemic still poses high risk towards the people's physical and economic health, the institution also seems to lose its students' fest momentum since its long pause.
As a voice of the silent masses, I am among the students whose department unfortunately failed to prepare the prior documents needed for the release of the full fundings intended to support the commencement of the students' fest; however, such setback did not restrict us as I have witnessed how the spirit of a true JRMSUan ignited as the governing organization, together with the student body, have deliberately made innovations to cater the necessities for the actualization of the event amidst such discrepancy.
To specify it, during our general assembly, my department has decided to subsidize financial contributions to compensate for such setbacks, such that the accumulated fund is then maximized to fit the allocations for the event; although some initially showed hesitation and disapproval, the spirit of oneness prevailed.
With the JRMSUans' joint effort, the 10th Intercollegiate Students' Festival has finally kicked off, and my long-awaited dream of showcasing my aptitudes now set ablaze. Just like Princess Anna, the frozen stories I once wrote in mind now became molten experiences I can share forevermore.
Column | Janssen Elopre