'Talidhay' Fun Run colors 10th Intercollegiate Students' Fest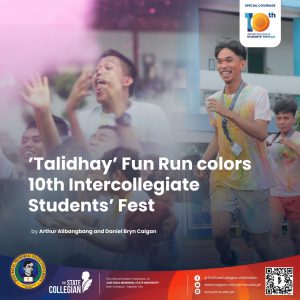 The 10th edition of JRMSU-Main Intercollegiate Students' Festival began at 4:30 am today, with the vibrant and purpose-driven Color Fun Run dubbed as 'Talidhay'.
Meaning 'dugay nga katawa' (prolonged laughter) in Cebuano, 'Talidhay' was conducted by the Federation of Student Organizations (FSO) and the Supreme Student Government (SSG) to raise funds to defray cost of student activities.
Over 460 JRMSUans who registered in the fun run gave justice to 'Talidhay' as they gleamed with joy and excitement, while promoting camaraderie and sportsmanship.
"I felt the excitement all throughout the race. Seeing the students embrace the spirit of togetherness is a bliss," Gino Dave D. Canania, a third year engineering student who joined the event, said. "As an adventurous person, to finish the race is a fulfilment."
After being splashed with paint dyed water, the fun run participants traversed Gov. Guading Adaza St. to Brgy. Sta. Cruz, Dapitan City.
Dapitan City Government Coast Guards, Bureau of Fire Protection, University Faculty and Staff facilitated the event.
News | Arthur Alibangbang and Daniel Brynn Caigan
Photos | John Reeve C. Insoy