FSO Cup season 1 ignites 2nd sem hustle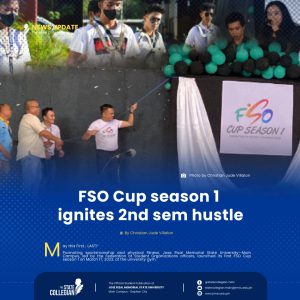 "May this First… LAST!"
Promoting sportsmanship and physical fitness, Jose Rizal Memorial State University—Main Campus, led by the Federation of Student Organizations officers, launched its first FSO Cup season 1 on March 17, 2023, at the university gym.
The opening was actuated by the FSO Unit Head, Dr. Jay Roslinda, tackling the importance of sports in the field of academics and heaving the boost of camaraderie and students' skill enhancement.
The gymnasium was filled with cheers and yells as gimmicks prepared by the organizers bolted the students in awe: a fiery dance by the Lundayan Dance Troupe, songs belted by The Premeros and the introduction of the Team Muses which amplified the shrieks of the crowd.
The Campus Administrator, Dr. Marvin Recapente graced the launch with a message emphasizing that sports is not just about keeping a healthy body but a sound mind as well.
"This FSO Cup will teach us collaboration, interpersonal relation and cooperation, to achieve a common goal along living with success and failure, [and] it is also about duty and trust." Dr. Recapente mentioned.
According to Dr. Jay D. Telen, the majority of students enrolled at the Main Campus for four reasons: free tuition, competent instructor lineups, multiple courses offered, and student activities.
"The idea came from me… because I noticed nga sa second sem, murag mingaw kaayo ang University… These are the activities or programs of the university that have attracted some of the students from different places," said Dr. Telen highlighting the need for pursuing the cup.
Dr. Telen also reaffirmed the challenge to maintain Values Education programs and to give light to such ventures in the coming academic year in order to create a brand from which JRMSU students are refined in the aspects of mannerism.
The current games in the FSO Cup are basketball (men and women) and volleyball (men and women), in which 12 teams from various sudent societies compete for excellence and cash prizes.
Meanwhile, one of the highlights of the opening ceremony was the unveiling of the official logo of the FSO Cup, for which Dr. Telen was extremely grateful, particularly to Sedie Tahil, the logo's designer.
According to the Dean of Student Affairs and Services, the logo will be the official FSO Cup logo for the upcoming seasons.
The games will be held every Friday and Saturday throughout the semester, starting March 24, 2023.
News | Christian Jude Villalon
Photo | Christian Jude Villalon