Occupational English Test (OET)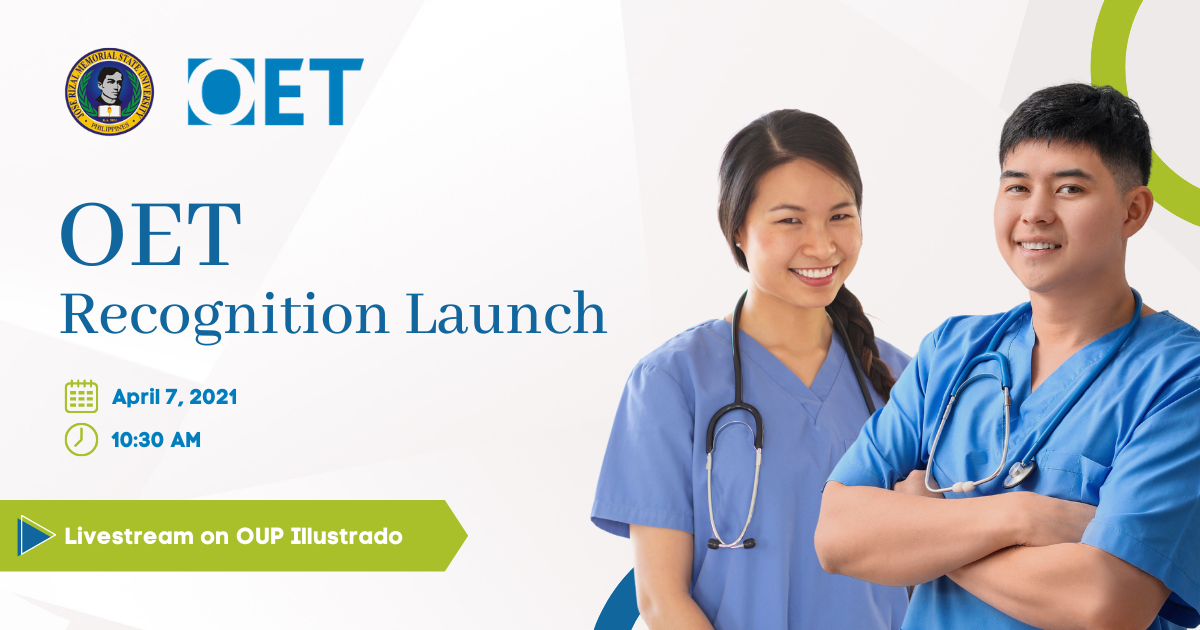 General Information
OET ( Occupational English Test ) is an English test that has been designed specially for healthcare professionals. Unlike other English tests, in which you may be tested on any topic, with OET your English will be assessed using healthcare-specific tasks that are familiar to you, such as reading patient case notes or listening to a patient describe symptoms.
OET tests all four language skills ( Listening, Reading, Writing and Speaking ) and test materials are available for the following 12 professions:
Dentistry                                  Occupational Therapy            Podiatry
Dietetics                                  Optometry                              Radiography
Medicine                                 Pharmacy                               Speech Pathology
*Nursing                                  Physiotherapy                         Veterinary Science
OET results are accepted by healthcare regulators in the UK, Ireland, Australia, New Zealand, Dubai, Singapore, Malta, Namibia and Ukraine as proof of English language proficiency. The test is also recognized in Australia and New Zealand for visa and immigration purposes, while doctors and nurses in the UK are not required to take a separate English language test when applying for a Tier 2 (General) visa if they have provided OET results as proof of English proficiency to their healthcare regulator. Available at more than 150 venues in 44 countries.
For more information visit  http://www.occupationalenglishtest.org.
JOSE RIZAL MEMORIAL STATE UNIVERSITY accepts OET for entrance to graduate studies. The grades that we require are as follows:
| | |
| --- | --- |
| Listening | C or higher |
| Reading | C or higher |
| Writing | C or higher |
| Speaking | C + or higher |
The benefits of recognizing OET are:
The test materials are developed by expert writers in conjunction with subject-matter experts to ensure that test content and construct is relevant and fit for purpose.
OET is a secure, valid and reliable test that covers all four language skills- Reading, Writing, Speaking, and Listening.
OET is administered through a network of 150 test venues in 45 countries, including India, Singapore, the PHILIPPINES and the Middle East as well.

            Universities & Colleges
Students may have used OET for visa purposes, so they already have the results of their English Proficiency
Allows students to demonstrate their knowledge of communicating with patients
Students are more confident whilst on placement / in the workforce
OET can then be used after graduating, i.e. students are work place ready once graduating

            Health Regulatory Bodies
Having an OET score that satisfies registration means that candidates are ready to work in the healthcare system
International recognition means better movement critical healthcare staff which makes it easier for candidates to satisfy requirements
OET scores and results are easily compared to other international high stakes English tests

            Hospitals & Healthcare workplaces
Proven ability to communicate with patients
Greater communication skills lead to safer care and better patient outcomes
Workplace ready candidates who have previous clinical experience

            Recruiters & Employment Agencies
Confidence in placing quality candidates for positions
No need for candidates to do multiple tests or put them through more hoops
Workplace ready candidates who can fit into English speaking workplaces

Updates will be provided on this page for
How do candidates give access to Recognizing Organizations
How can candidates prepare for OET
OET test dates and locations
How candidates can book OET