JRMSU – Main joins St. James, St. Mary pilgrim walks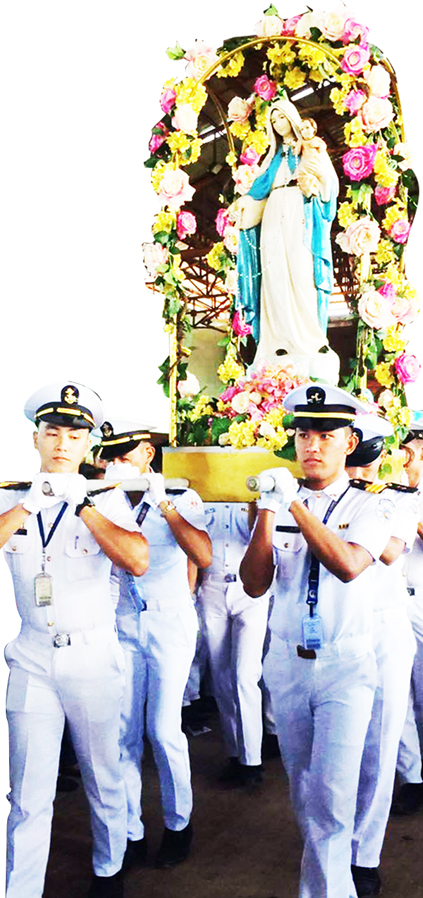 Jose Rizal Memorial State University (JRMSU) – Main family joined the holy pilgrimage of St. James the Greater and Blessed Virgin Mary of the Most Holy Rosary on July 6 and September 1, 2016, respectively.
The first pilgrimage ended with a humble boodle-fight lunch prepared by and for the devotees for the occasion.
The second pilgrimage of the Blessed Virgin Mary of the Most Holy Rosary in the university materialized in celebration of the Jubilee Year of the Archdiocese of Dipolog by 2017. The pilgrimage commenced through a short procession accompanied by the university band. It was followed by a short program which rekindled the history of the Blessed Virgin Mary of the Most Holy Rosary.
Dr. Evelyn R. Campiseño, the Vice President for Research, Extension and Development of the university, shared her research on the Filipino faith in the Blessed Virgin Mary during her opening remarks to enlighten everyone of Mary's role in human lives.
Then, a mass was celebrated before the recitation of the most holy rosary led by Prof. Dina Gallemit and selected JRMSU students from the different colleges. The veneration of Mary followed afterwards.
The pilgrimage ended at the university oval where the devotees, composed of JRMSU-Main employees and students, released white and blue balloons to the sky with their respective petitions in rolled papers tied through the balloon strings.
The releasing of the balloons symbolized the act of sending the devotees' prayers to God through the intercession of Mother Mary. Both pilgrimages were duly done in sanctity.
By Jovit V. Rio