Overview
Message of the Dean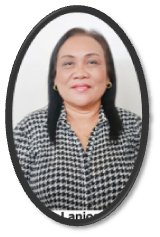 Welcome to Jose Rizal Memorial State University graduate school page.
The JRMSU Graduate School is committed to the success of its students and serves as an advocate for their professional development. We are committed to shape the students' professional career trajectories from the moment they begin their graduate student careers in this University. We know, however, that students' success includes aspects of their lives beyond their academic work, and believe that graduate study should be viewed as part of a well-rounded life experience. The University offers many programs to help support and enrich the lives of graduate students during their years at JRMSU.
The information on this website is intended to provide prospective students and current students with a broad overview of the graduate programs. I hope you will consider JRMSU as the ideal place to pursue a graduate education.
AIDA O. LANIOSO, Ed. D.
Dean, Graduate School, JRMSU System
Graduate School Goals
A – t all times evaluate and increase the quality and relevance of graduate
D- egree program and facilitate students' involvement in research and extension for them to
V- alue the importance of community involvement
A- nd to assist in the acquisition of external support in
N-urturing advance professional growth in specific field and to be able to
C- ontinue effective and efficient services and produce
E- xcellent professional graduates.
Graduate Programs
Doctor of Education (Instruction)
Doctor of Education (Educational Managment)
Doctor in Public Administration
Doctor in Public Administration (Major in Rural Development)
Master in Public Management
Master in Public Health
Master in Public Administration
Master of Arts in Nursing
Master of Arts in Mathematics
Master of Arts in Filipino
Master of Arts in English
Master of Arts in Biology
Master of Arts in General Science
Master of Arts in Social Science
Master of Arts in Physical Education
Master of Arts in Vocational Education
Master of Arts in Education (Educational Management, Special Education, Early Childhood Development)
Master of Science in Information Technology
Master in Business Administration
Master in Technological Education
Master of Science in Agriculture
Master of Science in Criminology Criminal Justice